Home » Culture
Canada's groundhogs predict six more weeks of winter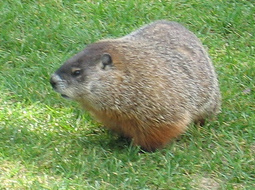 The U.S. may have Punxsutawney Phil, but Canada has its own group of ground­hogs who fore­cast the weather every year on February 2nd, oth­er­wise known as Groundhog Day.
The most famous may be Wiarton Willie, who looks for his shadow on Ontario's Bruce Peninsula, but there's also Schubenacadie Sam in Nova Scotia, Brandon Bob in Manitoba, and Balzac Billy in Alberta.
According to leg­end, if the ground­hog sees his shadow on the 2nd of February, it means that win­ter will last for six more weeks. As the CBC says,
It's always been a pack of lies, of course, but it's fun, and we need fun if we are to sur­vive another Canadian February.
You can read the details of this year's Canadian ground­hog report from CBC​.ca or the Toronto Star.
Photo by SuperSpyGuy (flickr)