Home » Daily Life
Counting down to 2010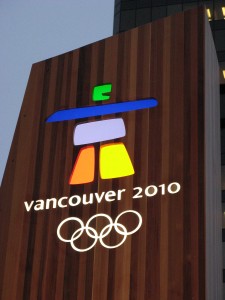 One year from today, February 12, 2010, the 2010 Winter Olympic Games open in British Columbia.
The Vancouver Province pub­lished the fol­low­ing sched­ule of cel­e­bra­tory events hap­pen­ing today in Vancouver and Whistler, the host cities for the Winter Games:
Whistler Village Square, 8 a.m.: Unveiling of the Vancouver 2010 Olympic torch and torch­bearer uniforms.
Lord Strathcona Elementary School, Vancouver, 10 a.m.: Vancouver Mayor Gregor Robertson plays floor hockey with Olympic ath­letes, mas­cots and students.
Richmond Speed-​​Skating Oval, 5 p.m.: Premier Gordon Campbell and International Olympic Committee pres­i­dent Jacques Rogge invite ath­letes from around the world.
Queen Elizabeth Theatre, Vancouver, 7:30 p.m.: Olympic count­down con­cert head­lined by Sarah McLachlan.
And in case you haven't been fol­low­ing the hype in Canada about the upcom­ing Olympics, the Vancouver Sun has the back­ground story:
The com­pe­ti­tion will begin at Whistler Olympic Park on Feb. 12, 2010, with ski jump­ing the only event sched­uled for the first day. The open­ing cer­e­monies will offi­cially mark the start of the Games later that evening at the 60,000-seat BC Place Stadium.

By the time the Olympic flame is extin­guished on Feb. 28, about 5,000 ath­letes from about 80 coun­tries will have com­peted in 16 sports.
For more details on the 2010 Olympics, visit Vancouver2010​.com.
Photo ©Carolyn B. Heller