Home » Daily Life
George Bush in Canada — Not the Obama love-​​in…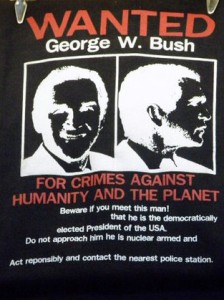 Former President George W. Bush kicked off his post-​​presidential speak­ing career in Canada yes­ter­day — at a $400-​​a-​​plate lunch in Calgary.
Although the Calgary Herald reported that his speech was warmly received, roughly 200 pro­test­ers gath­ered out­side, charg­ing Bush with war crimes. Many of the pro­test­ers hurled shoes at a poster of the for­mer pres­i­dent. Not exactly the lovey-​​dovey wel­come that greeted President Obama when he vis­ited Ottawa last month…
According to the Calgary news­pa­per, "Bush, who left office with one of the low­est approval rat­ings of any pres­i­dent in his­tory, chose the safe haven of Calgary, per­haps sec­ond only to Houston or Dallas in terms of friendly ter­ri­tory, to test-​​drive his new speak­ing career." Or as colum­nist Jeffrey Simpson put it in the Globe and Mail, "There he was, in per­haps the only city in Canada that would have him."
As Americans who were liv­ing in Canada dur­ing the Bush era undoubt­edly know, the for­mer pres­i­dent was hugely unpop­u­lar across most of the coun­try.
Photo by Hanumann (flickr)