Home » Culture
Why does ketchup taste different in Canada?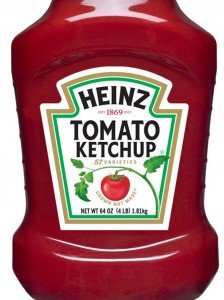 Last week, we reported on the Great Canadian Heinz Ketchup Cake, a PR cre­ation dreamed up in honor of Heinz Canada's 100th birth­day.
But the impor­tant ketchup ques­tion for many Americans who relo­cate to Canada is "Why does the ketchup taste dif­fer­ent?"
When my fam­ily first moved to Canada, one of the first things that my daugh­ters noticed was that the ketchup didn't taste the same as it did back in the U.S.
When I looked at the bot­tle, it seemed just like the Heinz ketchup we used to buy in the States, except that the pack­age said, "Ketchup Aux Tomates" instead of plain old Tomato Ketchup. But the kids insisted that it wasn't the same.
"And crack­ers taste dif­fer­ent, too," my girls told me, point­ing to a famil­iar box of saltines.
How could this be?
It turns out that many U.S. com­pa­nies have Canadian sub­sidiaries that, in many cases, do their own man­u­fac­tur­ing. And even when the prod­ucts are sold by the same names, the ingre­di­ents can be different.
Take those saltines. Nabisco makes them in the U.S. and sells them under the "Premium" label. In Canada, the brand is Christie Premium Plus. Both Christie and Nabisco are owned by Kraft.
The ingre­di­ents in the U.S. ver­sion are enriched flour, soy­bean oil, salt, high fruc­tose corn syrup, par­tially hydro­genated cot­ton­seed oil, malted bar­ley flour, bak­ing soda, and veg­etable mono­glyc­erides. The Canadian saltines are made with enriched wheat flour, soy­bean oil and hydro­genated cot­ton­seed oil, salt, sodium bicar­bon­ate, malt flour, yeast, amy­lase, pro­tease, and sour­dough culture.
Similar? Sure. The same? No.
And the ketchup? According to Heinz Canada, "…although Heinz has one basic recipe, there are dif­fer­ences — depend­ing in which coun­try it is made in. For exam­ple, ketchup users in Canada, England, Australia and Venezuela like their ketchup a bit sweeter than ketchup users in the U.S. and Mainland Europeans, who tend to like their ketchup a bit spicier."
So even though Heinz' slo­gan says, "If it isn't Heinz, it isn't ketchup," in Canada, it can still be Heinz with­out being exactly the same ketchup.