Home » Culture
Speaking Canadian: Tips from Canada's adventure couple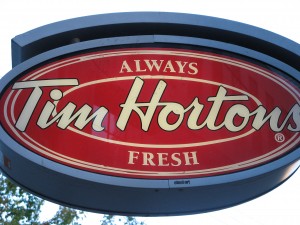 Avid trav­el­ers Dave Bouskill and Debra Corbeil bill them­selves as Canada's adven­ture cou­ple. They recent­ly took time out from their adven­tures to blog about unique Canadian words and phrases.
Have you heard of the Double Double? Here's their explanation:
"I am going to Timmies to grab a box of tim­bits and a large Double Double."

That is what you say when leave the house to order an assort­ment of tasty dough­nut cen­tres and an over­sized cup of cof­fee with 2 creams and 2 sug­ars at Tim Horton Doughnuts. Yummy.
And how about the 2 – 4?
This is our phrase we use when we go to buy beer: "I am going to get a 2 – 4 of Canadian at the Beer Store."

Yes, we buy our beer at the Beer store in Canada and a box of 24 beers is sim­ply short­ened to the words "two four."
Read their list of 10 unique Canadian words and phas­es here. For even more Canadiana, pick up a copy of the Canadian Oxford Dictionary.
Photo ©Carolyn B. Heller