Home » Daily Life
Looking for North America's sexiest beaches?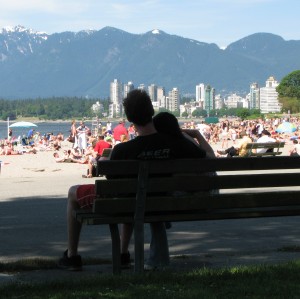 Move over, Mexico. Step aside, Hawaii.
If you're look­ing for one of North America's Top 10 sex­i­est beaches, look in Canada.
Canada?
Yes, Canada.
Forbes Traveler recently pub­lished a list of the Top 10 sex­i­est beaches in North America. Miami's South Beach — no sur­prise — was No. 1, and Main Beach in East Hampton (NY) was No. 2.
But Vancouver's own Kitsilano Beach ranked No. 3, ahead of Laguna Beach and La Jolla Cove in California, Ka'anapali Beach on Maui, and Ehukai Beach on the Big Island of Hawaii.
Of course, Kits Beach is no secret to Vancouverites. And it's just one of many beaches ring­ing the city that draw scads of beau­ti­ful (and reg­u­lar) peo­ple. With the region's long, sunny sum­mer days — when the sun rises by 5 am and doesn't set till nearly 10pm — the beaches bus­tle with walk­ers, vol­ley­ball play­ers, barbecue-​​ers,  and just plain sun-​​seekers.
So if you're com­ing to Canada, remem­ber to pack that bikini!
Photo ©Alan Albert