Home » Featured, Housing, Jobs, & Money
Top 10 Places to Work in Canada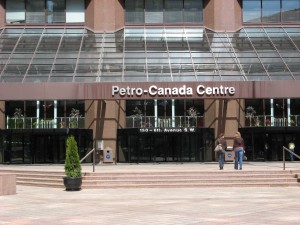 We recently wrote about the Top 10 Places to Retire in Canada. But what if you're com­ing to Canada to work?
According to MoneySense magazine's 2009 Best Places to Live sur­vey, the Top 5 best places to work in Canada are all in Alberta.
The Number 1 city for work­ing in Canada is Calgary, the sur­vey found, fol­lowed by Brooks, Cold Lake, Grande Prairie, and Edmonton. Relatively high salaries, com­par­a­tively low unem­ploy­ment, and above-​​average dis­cre­tionary income lev­els are fac­tors weigh­ing in these Alberta cities' favor.
Rounding out the top 10 are Estevan, SK; Levis, QC (just out­side of Quebec City); Winnipeg, MB; and Red Deer, AB.
Of course, with the reces­sion nip­ping at the Canadian job mar­ket, even high-​​flying Alberta isn't immune. Still, com­pared to other parts of the coun­try, Alberta is doing OK, job-​​wise. In June, for exam­ple, Alberta's Employment and Immigration Ministry reported that:
Alberta's sea­son­ally adjusted unem­ploy­ment rate was 6.8% in June 2009, an increase of 0.2 per­cent­age points from May and the third low­est in the coun­try behind Saskatchewan's 4.6% and Manitoba's 5.2%. The national aver­age was 8.6%, up 0.2 per­cent­age points from the pre­vi­ous month.
So, where is the worst place to work in Canada? Ironically, the sur­vey found that the worst place to work was also the best place for fun — Montreal.
Photo ©Carolyn B. Heller