Home » Daily Life
Taking Labo(u)r Day off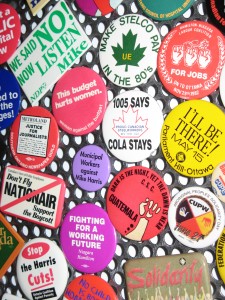 Today is Labour Day in Canada. Banks, post offices, gov­ern­ment offices, schools, and many busi­ness­es across the coun­try are closed today.
Celebrated annu­al­ly on the first Monday in September, Labour Day is essen­tial­ly the same hol­i­day as Labor Day in the U.S. — a day to hon­or work­ing peo­ple.
If you're in the greater Toronto area this week, you might remem­ber Labour Day by plan­ning a vis­it to the Workers' Arts and Heritage Centre in Hamilton, a small muse­um ded­i­cat­ed to "pre­serv­ing, hon­our­ing, and pro­mot­ing the cul­ture & his­to­ry of all work­ing peo­ple."
Their new exhib­it, Harvest Pilgrims, fea­tur­ing pho­tographs of Canadian migrant farm­work­ers by Vincenzo Pietropaolo, opens this Friday, September 11.
In the mean­time, let's take the day off, shall we?
Happy Labo(u)r Day!
Photo ©Carolyn B. Heller