Home » Culture
Every Canadian knows.…Terry Fox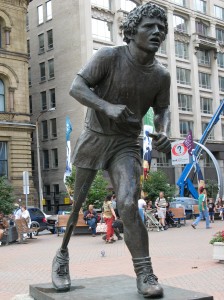 When you move to a new coun­try, you need to learn about that coun­try's heroes. In Canada, one of those larg­er-than-life icons is Terry Fox.
Born in Manitoba and raised in British Columbia, Fox was diag­nosed with a rare form of bone can­cer in 1977, when he was just 18 years old. His leg was ampu­tat­ed six inch­es above his knee, and after under­go­ing inten­sive can­cer treat­ment, he was fit­ted for an arti­fi­cial leg.
Fox sub­se­quent­ly decid­ed to raise mon­ey for can­cer research. In 1980, despite his arti­fi­cial leg, he began his Marathon of Hope. Starting in April from St John's, Newfoundland, he intend­ed to run across Canada from coast to coast.
Fox ran the equiv­a­lent of a marathon a day — 26 miles (or 42 kilo­me­ters) — from his Atlantic coast start­ing point. By September, after 143 days and more than 3,300 miles (5,300 kilo­me­ters), he was well into Ontario, just out­side the city of Thunder Bay.

Unfortunately, that's where his marathon end­ed. The can­cer had spread to his lung, and he had to return to BC for treat­ment.
By February of 1981, Fox had achieved his fund-rais­ing goal — to raise $1 from every Canadian to fight can­cer. The Canadian pop­u­la­tion at that time was 24.1 mil­lion, and his Marathon of Hope had raised $24.1 mil­lion.
Although Fox died of can­cer in June 1981, his fund-rais­ing lega­cy lives on, through the Terry Fox Foundation and the annu­al Terry Fox Run, which takes place in more than 900 loca­tions across Canada. This year's Terry Fox Run will be held this Saturday, September 13, 2009.
Even kids can get in on the fund-rais­ing act through the Terry Fox National School Run Day, which takes place Friday, September 25, 2009 at schools nation­wide.
Photo @Carolyn B. Heller