Home » Daily Life
Frugal Traveler eats Vancouver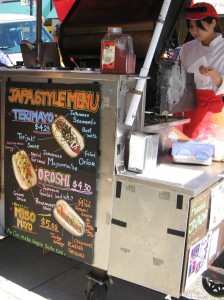 If you're relo­cat­ing to Vancouver, know­ing where to get cheap chow is essen­tial intelligence.
The New York Times' Frugal Traveler recently turned its cheap-​​eating lens on Vancouver's Asian-​​fusion fare, with this col­umn, "Asian Cuisine as Diverse as Vancouver."
Writer Matt Gross rec­om­mends Indian eatery Vij's Rangoli, the Japanese fare at Ping's Cafe, Japanese fusion hot dog stand Japadog, and the Hong Kong-​​style Cafe Gloucester, among others.
To sup­ple­ment his Asian-​​fusion list, I'd sug­gest explor­ing Flying Tiger (which serves "street-​​food inspired" dishes from across Asia), Jambo Grill (mix­ing East African and Indian fla­vors), and Chili Pepper House (3003 Kingsway, 604 – 431-​​8633) for Indian-​​Chinese fare.
Bon appetit!
Photo ©Carolyn B. Heller