Home » Housing, Jobs, & Money
Canada's top 25 family-​​friendly employers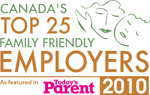 Want to know the best places in Canada for par­ents to work?
Check out the list of Canada's top 25 family-​​friendly employ­ers in the December 2009 issue of Today's Parent.
The list includes edu­ca­tional insti­tu­tions (McGill University in Montreal, George Brown College in Toronto, and Simon Fraser University in the Vancouver area), gov­ern­ment agen­cies (Statistics Canada and the Office of Canada's Auditor General, both in Ottawa), and a vari­ety of other busi­nesses and non-​​profit agen­cies, rang­ing from out­door gear retailer Mountain Equipment Co-​​op, to cos­met­ics com­pany L'Oréal Canada, to Vancouver-​​based video game devel­oper Next Level Games.
Get the full list, includ­ing links to pro­files of each of the top 25 com­pa­nies, from the Canada's Top 100 Employers web­site.