Home » Housing, Jobs, & Money
Canada's top 100 employers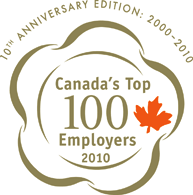 Where are the best places to work in Canada?
Last week, we blogged about Canada's top 25 fam­i­ly-friend­ly employ­ers. This week, we're bring­ing you the entire list of Canada's top 100 employ­ers nation­wide.
From Agriculture Financial Services Corporation to the Yellow Pages Group, the list includes both pub­lic and pri­vate com­pa­nies from very small to very large. It's a use­ful resource for job hunters across Canada.
Mediacorp Canada, which also runs the online job search site Eleuta​.ca, pub­lish­es the top employ­ers list. They also pub­lish region­al and city-spe­cif­ic employ­er direc­to­ries, includ­ing Greater Toronto's Top Employers, British Columbia's Top Employers, Alberta's Top Employers, plus top employ­er lists in Ottawa, Montreal, Atlantic Canada, Kitchener-Waterloo, and sev­er­al oth­ers.
How does a com­pa­ny get to be a top employ­er? The top 100 employ­ers list ranks Canadian com­pa­nies using eight cri­te­ria:
Physical Workplace
Work Atmosphere & Social
Health, Financial & Family Benefits
Vacation & Time Off
Employee Communications
Performance Management
Training & Skills Development
Community Involvement.
If you're job-hunt­ing, you might also check our ear­li­er post on the Top 10 Places to Work in Canada.