Home » Daily Life
Get active in Vancouver for 2010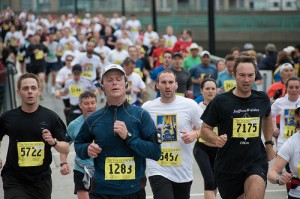 Vancouverites have a well-​​deserved rep­u­ta­tion for being active and outdoorsy.
If you'd like to join them but don't want to go it alone, have a look at the City of Vancouver's Active Events Calendar.
It lists an entire year's worth of out­door events, from the annual New Year's Day Polar Bear Swim in English Bay to the spring­time Pacific Populaire Bike Ride (this year's ride will be Sunday, April 4) to the Terry Fox Run, which takes place across Canada every September to raise funds for can­cer research.
Walking tours, ten­nis tour­na­ments, triathalons, beach soc­cer events, and runs short and long — if it can get you out­doors, it's on the Active Events list.
And with the 2010 Winter Olympics com­ing to Vancouver in February, don't you want to get active, too?
Photo by Duncan Rawlinson (flickr)