Home » Daily Life
St. Patrick's Day is time for Green Drinks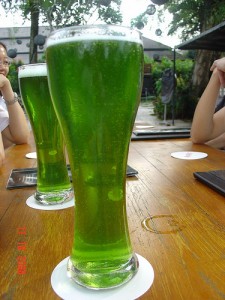 Green Drinks is not usu­ally a group that gath­ers to drink green beer. But on St. Patrick's Day in some Canadian cities, your drink can be as green as your politics.
Founded in the UK nearly two decades ago, Green Drinks is a monthly get-​​together for peo­ple who are inter­ested in sus­tain­abil­ity issues.
Many mem­bers work in the envi­ron­men­tal arena (and use the group as a net­work­ing oppor­tu­nity), but many sim­ply enjoy meet­ing and chat­ting with other folks who are con­cerned about green issues.
As the Toronto chap­ter says, they're "Saving the World, One Sip at a Time."
There are Green Drinks chap­ters in nearly 50 coun­tries and in all the major Canadian cities. 
Here's the St. Patrick's Day Green Drinks lineup at sev­eral locales across Canada:
Vancouver: From 5:45 pm at Steamworks Pub, 375 Water Street in Gastown
Toronto: From 5:30 pm at Brooklynn Bar, 1186 Queen Street West, 1 block west of the Drake Hotel
Thunder Bay (ON): 5 – 7 pm at Ruby Moon, 10 Court Street South
Courtenay (Vancouver Island, BC): 5:30 – 7 pm at The Grotto at Union Street Grill, 477 5th Street
Many other Canadian cities — includ­ing Montreal, Calgary, Edmonton, Halifax, Ottawa, Kitchener-​​Waterloo, and London (ON) — have active Green Drinks groups, even if they're not hav­ing a St. Patrick's Day get-​​together.
For the com­plete list of Green Drinks chap­ters, with their reg­u­lar meet­ing times and loca­tions, check out GreenDrinks​.org.
Photo by Eustaquio Santimano (flickr)