Home » Daily Life
Get to know your city on a "Jane's Walk" May 1 – 2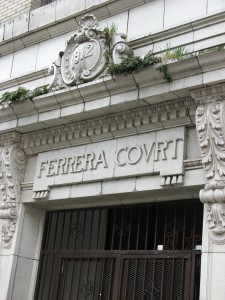 Put on your walk­ing shoes!
If you're new to Canada (or even if you've lived here for a while), here's a chance to get acquaint­ed with your home city and get some fresh air at the same time
On Saturday, May 1 and Sunday, May 2, cities across Canada are host­ing "Jane's Walks," a series of free neigh­bor­hood walk­ing tours.
Celebrating the lega­cy of Jane Jacobs (1916 – 2006), a not­ed urban­ist, activist, and author, Jane's Walks inspire peo­ple to get to know their city — and each oth­er — by get­ting out and walking.
More than 60 cities world­wide, includ­ing 30 in Canada, are hold­ing Jane's Walks in 2010.
Jacobs was born in the U.S. but immi­grat­ed to Canada in the 1960s. Her 1961 book, The Death and Life of Great American Cities, intro­duced inno­v­a­tive, new ideas about urban development.
Jacobs cham­pi­oned cities that were high­er den­si­ty and mixed-use but still walk­a­ble and human scale. Because of her belief that local res­i­dents should have input on how their neigh­bor­hoods devel­op, Jacobs encour­aged peo­ple to get bet­ter acquaint­ed with their local com­mu­ni­ties.
Among the Canadian cities host­ing Jane's Walks this year are:
Last year, I took an inter­est­ing Jane's Walk though the Vancouver neigh­bor­hoods of Strathcona and Gastown that high­light­ed those com­mu­ni­ties' Jewish roots. Among oth­er things, I learned that vaude­ville per­former Jack Benny met his future wife in the Ferrara Court build­ing on East Hastings Street. (The Jewish Museum and Archives of B.C. hosts sim­i­lar walk­ing tours from June through August.)
For a com­plete list of 2010 Jane's Walks across Canada, check the Jane's Walk web­site.
Photo ©Carolyn B. Heller