Home » Housing, Jobs, & Money
Business in Vancouver: Can the city attract top talent?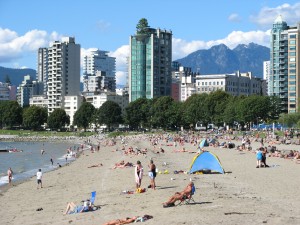 Vancouver-​​based social media exec Rochelle Grayson — an expat who's lived in Germany and the U.S. as well as in Canada — recently blogged about what she called "Vancouver's Challenging Business Environment."
She argues that "Vancouver lacks the senior man­age­ment tal­ent and financing/​investment ecosys­tems to reach its full poten­tial" as a truly global city. And part of the prob­lem, she writes, are salary and com­pen­sa­tion packages.
Despite Vancouver's increas­ing cost of liv­ing — par­tic­u­larly the cost of hous­ing — Grayson says that salaries for ambi­tious busi­ness peo­ple are not keep­ing pace.
Describing her per­sonal job-​​hunting expe­ri­ences, she writes, "I do under­stand that Vancouver isn't NY, San Francisco or Toronto, but why am I con­sis­tently pre­sented with com­pen­sa­tion pack­ages that equate to what I earned 10 years ago?! …At the same time, I'm being heav­ily courted by com­pa­nies in other cities that are offer­ing pack­ages that are 2 – 3 times higher."
Perhaps Vancouver is such a desir­able place to live (in 2010, Vancouver again topped The Economist's list of the world's most live­able cities) that com­pa­nies feel that they don't have to pay high salaries to attract peo­ple to or keep them in the area.
And as some peo­ple who com­mented on Grayson's post wrote, maybe being able to knock off work early to go sail­ing or ski­ing or golf­ing is its own reward.
What do you think? Did you take a salary cut to live and work in Vancouver? Do you think salaries in Vancouver are com­pet­i­tive with those in other Canadian cities? Is liv­ing in Vancouver a lifestyle choice that's worth more than money?
Leave a com­ment and let us know.
Vancouver's English Bay Photo ©Carolyn B. Heller