Home » Immigration, Travel
Best places to live: Canada's Top 10 cities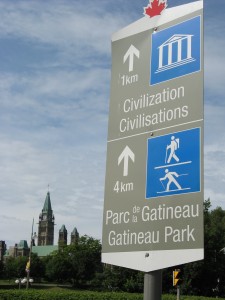 Most new­com­ers to Canada set­tle in the country's largest urban areas: Toronto, Vancouver, and Montreal.
Yet accord­ing to the MoneySense 2010 Best Places to Live survey — which rated 179 Canadian cities and towns on such fac­tors as cli­mate, pros­per­ity, access to health­care, home afford­abil­ity, crime rates, and lifestyle — some of Canada's smaller cities came out on top.
And the nation's cap­i­tal, Ottawa, earned this year's #1 spot.
The preva­lence of gov­ern­ment and uni­ver­sity jobs has made Ottawa more recession-​​proof than other com­mu­ni­ties, and salaries there are high, while hous­ing costs are rel­a­tively low.
Here's the MoneySense Top 10 list:
Among Canada's other large(er) cities, London, ON ranked #12, Halifax, NS was #14, Edmonton, AB was #16, and Quebec City came in at #18.
While Vancouver fre­quently tops many lists of the world's most live­able cities, it lost points in the MoneySense poll because of the high cost of hous­ing, earn­ing a rank­ing of #29.
Toronto and Montreal have much less expen­sive hous­ing options than Vancouver, but the reces­sion has caused unem­ploy­ment rates in both those cities to rise about the national aver­age. Toronto ranked #85 in the MoneySense sur­vey, while Montreal was #120.
MoneySense even pub­lished a com­pan­ion arti­cle about why Toronto will never be Number One on their list.
However, since MoneySense this year sep­a­rated out sub­urbs with more than 50,000 res­i­dents, some Toronto and Montreal sub­urbs scored far bet­ter than the cities them­selves, includ­ing Burlington, ON at #3 and Laval, QC at #13.
Here's the link to the com­plete list of the MoneySense 2010 Best Places to Live.
Ottawa photo ©Carolyn B. Heller