Home » Culture
Happy Victoria Day!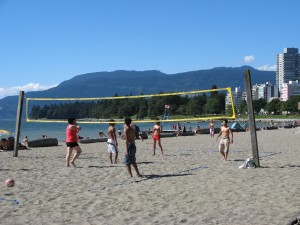 It's Victoria Day here in Canada today.
For most Canadians, the hol­i­day is the unof­fi­cial start of sum­mer, with bar­be­cues, beach pic­nics, or week­ends at the lake (at least if the weather cooperates).
But the Victoria Day hol­i­day was orig­i­nally cre­ated to cel­e­brate the May 24 birth­day of Britain's Queen Victoria.
Queen Victoria, who gov­erned the British Empire from 1837 until her death in 1901, was the rul­ing monarch at the time of Canadian Confederation — when Canada became a nation in 1867.
As a Commonwealth coun­try, Canada still has a queen, cur­rently Queen Elizabeth II.
Since 1957, Victoria Day has been the offi­cial day to cel­e­brate the sovereign's birth­day in Canada. Although Queen Elizabeth's actual birth­day is April 21, it's hon­ored on Victoria Day.
So head for the beach today, and wher­ever you are, offer a birth­day toast to the queen!
Vancouver's English Bay photo ©Carolyn B. Heller