Home » Culture
To find happiness, come to Montreal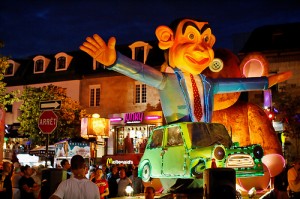 Looking for hap­pi­ness? Lonely Planet says, "Come to Montreal."
The Australia-​​based travel guide com­pany recently pub­lished a list of the World's 10 Happiest Places, and the city of Montreal — described as "clean, wel­com­ing and refresh­ingly mul­ti­cul­tural" — made the cut.
Although Canada's sec­ond largest city scored high on the hap­pi­ness scale, it couldn't beat the South Pacific island of Vanuatu, which ranked #1 on Lonely Planet's happy places list. Francophone like Montreal, Vanuatu undoubt­edly earned more points for the weather!
Last year, Kellogg's Special K Satisfaction Survey found that the hap­pi­est women in Canada live in Toronto. But this same Kellogg's poll reported that the chic women of Montreal scored highly on "sat­is­fac­tion with body image."
If you're think­ing about relo­cat­ing to happy Montreal, we can help. Check out our Living Abroad in Canada: Montreal page for lots of Montreal relo­ca­tion resources.
Montreal "Juste Pour Rire" fes­ti­val photo by jean­pier­relavoie (flickr)