Home » Housing, Jobs, & Money
Canadian real estate market: At risk for a U.S.-style crash?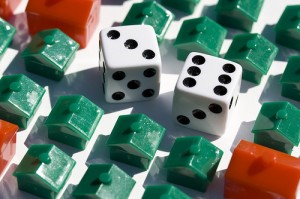 If you're look­ing to buy a home in Canada, it's under­stand­able if you're a bit jit­tery about the hous­ing market.
Housing prices in Canada have climbed sig­nif­i­cantly since the year 2000, par­tic­u­larly in the largest cities: Vancouver, Toronto, Montreal, Ottawa, Calgary, and Edmonton.
But are prices going to con­tinue to rise? Level off? Or fall? And is Canada at risk for a hous­ing mar­ket crash, sim­i­lar to the nose­dive in the U.S. real estate market?
Canadian ana­lysts are gen­er­ally bull­ish on the hous­ing mar­ket, but here are two dif­fer­ent views of the cur­rent Canadian real estate mar­ket situation:
Canada's Housing Bubble: An Accident Waiting to Happen, a report from the Canadian Centre for Policy Alternatives, argues that Canada may be at risk for a sig­nif­i­cant down­turn in the hous­ing mar­ket. As bad as the U.S. crash? Maybe not, but prices in Canada's major cities could still fall.
The C.D. Howe Institute takes the oppo­site point of view in their report, Low Risk of US-​​Style Housing Bust in Canada. Their analy­sis sug­gests that the fac­tors lead­ing up to the U.S. hous­ing mar­ket bust are not present in Canada, so the mar­ket should remain more stable.
Photo by wood­ley­won­der­works (flickr)