Home » Daily Life, Housing, Jobs, & Money
What's so special about a "Vancouver Special?"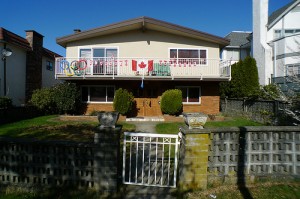 If you're house-hunt­ing in Vancouver, you'll like­ly see some hous­es that are mar­ket­ed as "Vancouver Specials."
Built in the 1960s and '70s, these flat-front­ed two-sto­ry homes were con­struct­ed quick­ly, when baby boomers and new immi­grants were all seek­ing hous­ing.
These hous­es gen­er­al­ly incor­po­rat­ed one liv­ing space on each lev­el, which appealed to extend­ed fam­i­lies liv­ing togeth­er or to home­own­ers who want­ed to rent out a sec­ondary suite.
Unfortunately, the Vancouver Specials were wide­ly panned as ugly, par­tic­u­lar­ly when they were built in neigh­bor­hoods of his­toric homes.
You'll still see plen­ty of Vancouver Specials around the city and its sub­urbs, although in many areas, they're con­sid­ered "tear­downs" or as can­vas­es for con­tem­po­rary ren­o­va­tions.
If you're in Vancouver this week, you have two oppor­tu­ni­ties to learn more about this dis­tinc­tive Vancouver hous­ing type, thanks to the Vancouver Heritage Foundation.
On Tuesday, September 21 at 7pm, archi­tect Stephanie Robb of Pechet and Robb Art & Architecture will present her per­spec­tive on 10 years of work on Vancouver Specials. Her talk will be held at the Unitarian Church, 949 W. 49th Avenue (at Oak Street). Admission is $10.
On Saturday, September 25th, the Heritage Foundation is offer­ing its annu­al Vancouver Special Tour, where you'll vis­it sev­er­al exam­ples of restored Vancouver Specials. The tour runs from noon to 5pm and costs $25.
Contact the Vancouver Heritage Foundation for infor­ma­tion about both of these events. Or phone them at 604 – 264-9642.
Vancouver Special pho­to by JMV on flickr