Home » Culture
It's Remembrance Day, and Canadians are wearing poppies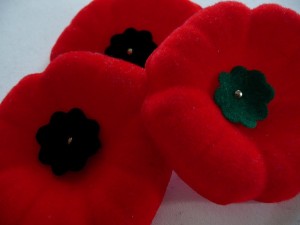 November 11 is Remembrance Day in Canada.
Last year, we blogged about "Why is every­one wear­ing pop­pies?" to explain Canada's Remembrance Day tra­di­tions:
A nation­al pub­lic hol­i­day, Remembrance Day is cel­e­brat­ed at the 11th hour of the 11th day of the 11th month. It orig­i­nal­ly com­mem­o­rat­ed the end of World War I on November 11, 1918, at 11 am.
Beginning about two weeks before Remembrance Day, you'll notice many Canadians sport­ing bright red pop­py pins on their left lapels.
Every year at the end of October, the Royal Canadian Legion, Canada's largest vet­er­ans ser­vices orga­ni­za­tion, begins sell­ing pop­pies (by dona­tion) all across the coun­try. Long a sym­bol of remem­brance in oth­er coun­tries, the pop­py became Canada's offi­cial Remembrance Day icon in 1921.
The annu­al pop­py cam­paign is designed to hon­or the 117,000 Canadian ser­vice peo­ple who have lost their lives in mil­i­tary oper­a­tions around the world. The mon­ey raised pro­vides assis­tance to vet­er­ans and their fam­i­lies.
Canadian banks, offices, schools, and many busi­ness­es are closed on Remembrance Day.
Here's a list of events mark­ing the hol­i­day this week across the coun­try.
Read more about Canada's pop­py tra­di­tion in this post from Why Go Canada, "Where Poppies Grow: Remembrance Day in Canada."
You might also be inter­est­ed in read­ing about emerg­ing alter­na­tives to the tra­di­tion­al red pop­py; the Globe and Mail wrote about the top­ic in "Rethinking the pop­py in a respect­ful way."
Poppy pho­to by That Canadian Grrl (flickr)