Home » Immigration
Want to live in Canada? Canada wants you!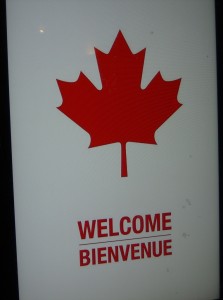 While many coun­tries are try­ing to limit immi­gra­tion, Canada is wel­com­ing new­com­ers.
That's accord­ing to this intrigu­ing New York Times arti­cle: "Defying Trend, Canada Lures More Migrants:"
…Rancorous debates over immi­gra­tion have erupted from Australia to Sweden, but there is no such thing in Canada as an anti-​​immigrant politi­cian. Few nations take more immi­grants per capita, and per­haps none with less fuss.…
The arti­cle goes on to explain that:
Canada has long sought immi­grants to pop­u­late the world's sec­ond largest land mass, but two devel­op­ments in the 1960s shaped the mod­ern age.

One cre­ated a point sys­tem that favors the highly skilled. The other abol­ished pro­vi­sions that screened out non­whites. Millions of minori­ties fol­lowed, with Chinese, Indians and Filipinos in the lead.
When we moved to Canada from the U.S., I was struck by Canada's notably more wel­com­ing atti­tude toward new­com­ers, which the Times arti­cle also notes:
Relative to its pop­u­la­tion, Canada takes more than twice as many legal immi­grants as the United States. Why no hullabaloo?

With one-​​ninth of the United States' pop­u­la­tion, Canada is keener for growth, and the point sys­tem helps per­suade the pub­lic it is get­ting the new­com­ers it needs. The chil­dren of immi­grants typ­i­cally do well. The eco­nomic down­turn has been mild. Plus the absence of large-​​scale ille­gal immi­gra­tion removes a dom­i­nant source of the con­flict in the United States.
I was also sur­prised at the con­trast between the U.S. "melt­ing pot" phi­los­o­phy — where suc­cess­ful immi­grants are expected to assim­i­late into the great melt­ing pot of American soci­ety — and Canada's belief in itself as a mul­ti­cul­tural coun­try.
The major­ity of Canadians seem to feel that mul­ti­ple eth­nic groups can live side by side, and immi­grants don't have to give up their tra­di­tional cul­ture to become part of their new Canadian com­mu­nity. As the Times put it:
French and English from the start, Canada also has a more accom­mo­dat­ing polit­i­cal cul­ture — one that accepts more pluribus and demands less unum.
The Times arti­cle gave lots of cov­er­age to Canada's Provincial Nominee Programs, par­tic­u­larly in Manitoba, which has accepted approx­i­mately 50,000 new immi­grants over the last ten years:
While the fed­eral (immi­gra­tion) sys­tem favors those with col­lege degrees, Manitoba takes the semi-​​skilled, like truck dri­vers, and focuses on peo­ple with local relatives…
The Provincial Nominee Programs are designed to attract immi­grants who have par­tic­u­lar skills that the var­i­ous provinces require. Applications for Provincial Nominees are often approved much faster than Federal Skilled Worker Applications.
To learn more about Canada's provin­cial nom­i­nee pro­grams, fol­low the links from the Provincial nom­i­nees: Who can apply page on the Citizenship and Immigration Canada website.
And you can read the full New York Times arti­cle here.
What do you think? Is Canada more wel­com­ing to immi­grants than other coun­tries? Leave a com­ment and let us know.
Photo by Michael Francis McCarthy (flickr)