Home » Culture
The Canada-​​US Frito-​​Lay chips bag saga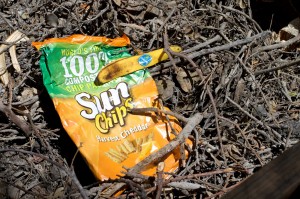 Are Canadians more con­cerned about the envi­ron­ment than their neigh­bors south of the border?
Here's the story:
Snack food giant Frito-​​Lay intro­duced a new com­postable chip bag in both Canada and the U.S. made from plant-​​based mate­ri­als that decom­pose quickly.
The prob­lem? The bags are really noisy.
So accord­ing to this Vancouver Sun arti­cle, "Chips bags too noisy for U.S., but a hit in Canada," the com­pany received so many com­plaints from American cus­tomers that they stopped using the new bags in the United States.
In Canada, though, Frito-​​Lay is pro­mot­ing the bags' eco-​​friendliness, and appar­ently their strat­egy is working.
"Just put them in a bowl," sug­gests Bonnie Bowers Wilson of Campbellford, Ont. in a recent Toronto Star arti­cle:
"I live in a noisy house­hold. I have the tele­vi­sion on, a noisy Jack Russell and three cats. I don't under­stand the con­cern about the noise."

She thinks Canadians are more will­ing to make changes for the envi­ron­ment than Americans.
The com­pany has even cre­ated a YouTube video for the Canadian mar­ket, as well as a Canadian Facebook page, tout­ing the bags' envi­ron­men­tal goodness.
In my expe­ri­ence, Canadians do pride them­selves on their envi­ron­men­tal aware­ness, and many Canadian cities are fre­quently lauded for their green poli­cies (see "Where is the world's top eco-​​city?").
What about you? Do you think the com­postable chips bags are too noisy? Or is it worth it for the envi­ron­ment? Leave a com­ment and let us know.
And a note to our read­ers from the U.K.: we're talk­ing about chips — a.k.a. crisps — not the fried pota­toes you eat with fish!
Sun Chips photo by cog­dog­blog (flickr)