Home » Culture
Thanksgiving: What's different in Canada?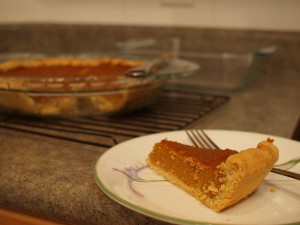 In honor of American Thanksgiving Day, Canadian Living mag­a­zine has posted a quiz: How do Canadian Thanksgiving feasts dif­fer from American Thanksgivings?
I've found that the meals them­selves are fairly sim­i­lar — turkey, stuff­ing, gravy, sweet pota­toes, cran­berry sauce, and a plen­ti­ful array of pies grace hol­i­day tables on both sides of the bor­der — but the Canadian Living arti­cle points out sev­eral small differences.
To me, the biggest dif­fer­ence is the rel­a­tive impor­tance of the hol­i­day in the two coun­tries: Thanksgiving is a much big­ger deal south of the bor­der. People cer­tainly do have fam­ily din­ners for Thanksgiving here in Canada, but there isn't the mass travel frenzy you find in the States.
And I'm still adjust­ing to hav­ing our turkey feast in October!
How about you, fel­low American expats? Do you miss American Thanksgiving? Leave a com­ment and let us know how you're cel­e­brat­ing the US turkey day.
And check out our post from last Thanksgiving: American Thanksgiving: Do you miss it?
Happy American Thanksgiving!
Pumpkin pie photo by cal­gar­yre­views (flickr)