Home » Immigration
Should Canada create a Startup Visa for immigrant entrepreneurs?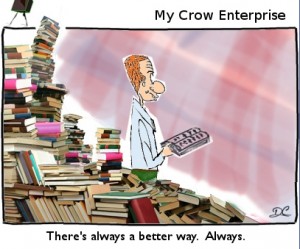 A group of Vancouver entre­pre­neurs is lead­ing a cam­paign encour­ag­ing the Canadian gov­ern­ment to cre­ate a new "startup visa" for immi­grant entre­pre­neurs.
Launched by Danny Robinson (CEO, British Columbia Innovation Council), Maura Rodgers (Executive Director. Bootup Entrepreneurial Society), and Boris Wertz (Founder, W Media Ventures), Startup Visa Canada is an ini­tia­tive "to encour­age the bright­est entre­pre­neur­ial minds from around the world to choose Canada as the best place to start a company."
The group argues that the cur­rent "fed­eral and provin­cial gov­ern­ments' entre­pre­neur­ial pro­grams con­tain min­i­mum per­sonal fixed asset pro­vi­sions of about $300,000 and a long approval process that make it nearly impos­si­ble for immi­grant entre­pre­neurs to start com­pa­nies here."
Among their proposals:
replace the cur­rent min­i­mum asset pro­vi­sions with a min­i­mum Canadian invest­ment of $150,000.
enable qual­i­fied Immigrants to part­ner with local investor(s) to expe­dite their tem­po­rary work permits.
require Immigrants to have at least a one-​​third equity posi­tion in their com­pa­nies, be active in man­age­ment, and cre­ate at least three full-​​time equiv­a­lent (FTE) jobs over the course of a two-​​year period.
A sim­i­lar startup visa ini­tia­tive is under­way in the United States, where Senators John Kerry (Democrat of Massachusetts) and Richard Lugar (Republican of Indiana) have intro­duced the Startup Visa Act.
What do you think? Is the startup visa a good idea for Canada? Did you come to Canada under Citizenship and Immigration Canada's cur­rent entre­pre­neur pro­grams? If so, what was your expe­ri­ence? Please leave a com­ment and let us know.
And if you agree with the Startup Visa Canada Initiative, you can sign their peti­tion here.
For more on the topic of startup visas, see:
Startup Visa Canada's web­site and blog
TechVibes arti­cle on the Startup Visa initiative
StartupNorth blog post offer­ing sug­gested revi­sions to the Startup Visa proposal
Wall Street Journal piece about the Startup Visa Act in the U.S.
"Better Way" car­toon and photo by Dave Charbonneau (flickr)