Home » Daily Life, Housing, Jobs, & Money
Why Canadians fly from US airports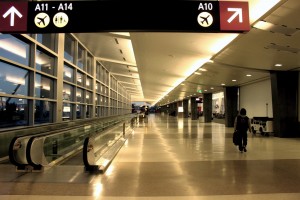 If you're liv­ing in Canada and plan­ning a trip out­side the coun­try, do you con­sid­er fly­ing from an air­port in the United States?
If so, you're not alone.
A recent Globe & Mail arti­cle, "An omi­nous flight pat­tern: Canadians opt­ing for U.S. air­ports," report­ed that "Over the past decade, the num­ber of trips tak­en at U.S. air­ports by Canadians has more than dou­bled."
What's dri­ving air­port-bound Canadians to dri­ve over the bor­der? That's easy — sav­ing mon­ey.
As the Globe & Mail arti­cle explained, "one in six Canadians fly­ing to a U.S. des­ti­na­tion are now turn­ing their backs on Canada's air­ports and tak­ing advan­tage of cheap­er American fares."
But what makes Canada's fares so high? Here's the Globe & Mail's analysis:
With only Air Canada and WestJet offer­ing coast-to-coast ser­vice, Canada lacks the fierce com­pe­ti­tion among small­er air­lines that forces down fares in the United States.

But direct and indi­rect gov­ern­ment levies remain the biggest rea­sons for Canada's sky-high fares. Ottawa charges mil­lions of dol­lars in rent on the fed­er­al­ly owned land that major air­ports oper­ate on; it also impos­es secu­ri­ty charges, fuel excise tax­es and sales taxes.

The var­i­ous levies and charges have steadi­ly risen in recent years and now account for up to 70 per cent of the total fare on domes­tic flights.
So what does that mean for Canadian travelers?
In Vancouver, it means they're brav­ing the traf­fic and bor­der line-ups to dri­ve to Seattle, where dis­count air­lines like Jet Blue and Virgin America have a grow­ing num­ber of flights from Sea-Tac International Airport.
It also means more B.C. trav­el­ers are con­sid­er­ing flights from Bellingham, Washington, where Allegiant Air whisks snow­birds south to Las Vegas, Phoenix, and sev­er­al California cities.. As the CBC report­ed, "The num­ber of peo­ple fly­ing out of Bellingham International Airport has increased from 68,000 in 2001 to about 400,000 in 2010 and more than half of those are Canadian."
Toronto-area trav­el­ers are fly­ing from Buffalo, and oth­er south­ern Ontario res­i­dents book flights from Detroit.
South of Montreal, New York's Plattsburgh International Airport even bills itself as "Montreal's U.S. Airport," lur­ing Canadian trav­el­ers with cheap flights on Spirit Airways.
It's not all gloom and doom for Canadian trav­el­ers. Besides Air Canada and Westjet, some small­er car­ri­ers are begin­ning to make inroads in the Canadian mar­ket, notably Toronto-based Porter Airways. Porter flies between east­ern Canadian cities, includ­ing Toronto, Montreal, Halifax, and St. John's, and to a few American destinations.
But in the same way that Canadian shop­pers look for oth­er bar­gains south of the bor­der (see our recent post, "Shopping in Canada, or Why US Expats Miss Target"), it seems like dri­ving south to fly is a Canadian migra­tion that will be with us for some time.

Sea-Tac International Airport pho­to by pray­it­no (flickr)