Home » Daily Life
Happy Family Day, Islander Day, Louis Riel Day…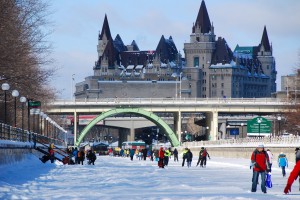 In the U.S., the third Monday in February is a nation­al hol­i­day. Washington's Birthday (often cel­e­brat­ed as Presidents' Day) hon­ors George Washington, the first American pres­i­dent.
If you live in Ontario, Alberta, Saskatchewan, Prince Edward Island, or Manitoba, then you're in luck!
In these Canadian provinces, the third Monday in February is a hol­i­day, too.
It's Family Day in sev­er­al provinces, includ­ing Ontario, Alberta, and Saskatchewan.
In Prince Edward Island, the February hol­i­day is called Islander Day.
And in Manitoba, you get a day off for Louis Riel Day, hon­or­ing the Métis (French-abo­rig­i­nal) leader cred­it­ed with being the "father" of the province.
In these provinces, banks, schools, and gov­ern­ment offices are closed. Some shops are open, as are fed­er­al gov­ern­ment offices.
Do you have plans for the February hol­i­day? In Ontario, many cities and towns orga­nize all sorts of win­ter activ­i­ties. If there's a par­tic­u­lar­ly fun event that's hap­pen­ing in your com­mu­ni­ty, please leave a com­ment and let us know.
This February hol­i­day is not a nation­al hol­i­day in Canada, so if you live in British Columbia, Quebec, Nova Scotia, Newfoundland and Labrador, New Brunswick, or in any of the Canadian ter­ri­to­ries (the Yukon, the Northwest Territories, or Nunavut), too bad. You have to work on Monday. Sorry!
Rideau Canal (Ottawa) pho­to by matt.boman (flickr)