Home » Housing, Jobs, & Money
Cost of living in Canada: Canadian cities offer good value for expats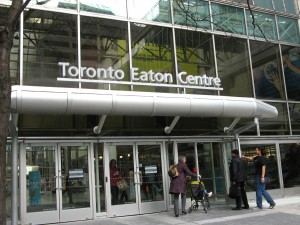 Is it cheap­er to live in Luanda, Angola or Toronto, Canada?
If you guessed Luanda, you'd be wrong.
According to the Mercer 2011 Cost of Living Survey, an annu­al rank­ing of more than 200 cities across five con­ti­nents, Luanda is the most expen­sive city in the world to live, fol­lowed by Tokyo, N'Djamena (Chad), Moscow, and Geneva.
In Canada, Toronto has the high­est cost of liv­ing, but world­wide, it ranked #59, mak­ing it far cheap­er than cities like Singapore (#8), Sydney (#14), and Shanghai (#21).
Among major Canadian cities, Vancouver fol­lowed Toronto at #65, Montreal was #79, and Calgary came in at #96.
What was Canada's least expen­sive city? Ottawa, the nation's cap­i­tal, which ranked #114.
The Mercer sur­vey com­pared the cost of over 200 items in each city, includ­ing hous­ing, trans­port, food, cloth­ing, house­hold goods, and enter­tain­ment. You can read more about the sur­vey on the Mercer web­site.
Toronto Eaton Centre pho­to ©Carolyn B. Heller