Home » Immigration
More Americans Moving to Canada to Work or Study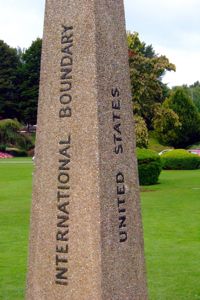 "Economic woes in the U.S. are dri­ving Americans across the north­ern bor­der in near-​​record num­bers as they seek bet­ter job oppor­tu­ni­ties and cheaper edu­ca­tion in Canada."
That's accord­ing to a recent CTV News report, which said that Canada issued 35,060 visas to U.S. res­i­dents in 2010 and an addi­tional 34,185 visas to Americans in 2011.
As the unem­ploy­ment rate in the United States remains high, "it's nat­ural you're going to see more…young Americans pur­su­ing eco­nomic oppor­tu­nity here," said Canada's Minister of Citizenship, Immigration, and Multiculturalism Jason Kenney.
Similarly, more American stu­dents are apply­ing to Canadian uni­ver­si­ties to avoid the higher cost of tuition south of the border.
Read the full report at CTVNews​.ca.
Are you an American mov­ing, or think­ing about mov­ing, to Canada? Leave a com­ment and share your story.
U.S.-Canada bor­der photo by HeyRocker (flickr)