Home » Culture
What's Different in Canada? A Guide for Americans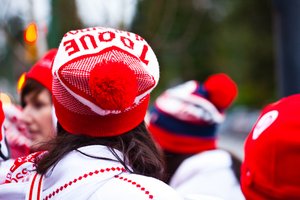 "Mom, there's a word that peo­ple use here that means 'hat,'" my 10-year-old daugh­ter told me one day dur­ing our first win­ter in Vancouver.
"It sounds like 'tunic.'"
"Tunic?" I asked. "A hat? Are you sure?"
If you're Canadian, you're undoubt­ed­ly laugh­ing or at least rolling your eyes at our American igno­rance. Although we were well-acquaint­ed with ski hats when we relo­cat­ed to Canada from Boston, we had nev­er heard the Canadian term "toque" (pro­nounced "toook").
Remembering my ear­ly days as an American in Canada, when I was fre­quent­ly sur­prised by all the things that were new to me on the Canadian side of the bor­der, I'm get­ting lots of laughs from this tum­blr blog, What's Different in Canada?
Written by Kevin Bracken, an American who went to school in Toronto, this self-described "Beginner's Guide to the Differences Between the Two Most Similar Countries on Earth," high­lights words, phras­es, and cus­toms that baf­fle many Americans when they vis­it or first arrive in Canada.
Can't tell a Duo-tang from a don­air? Perplexed by PD days and pou­tine? Then check out What's Different in Canada?