Home » Travel
Travels of a New Canadian: From Vancouver to Halifax by Train — with the Cultural Access Pass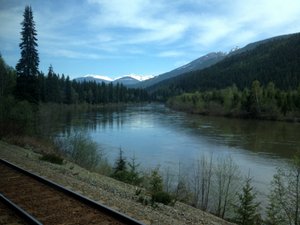 Did you ever eat a nun's fart? Walk on a glac­ier? Explore an urban national park?
Have you sam­pled shmoo torte? Taste-​​tested bagels or per­o­gies? Snacked on Kouign-​​Amann?
Have you gone about your daily busi­ness — as if you were an Acadian in the 1700s?
Have you seen the grave of Louis Riel? Dipped your toes in the surf of the world's high­est tide?
Have you con­sid­ered how abo­rig­i­nal artists per­ceived the explor­ers who arrived on their land?
…explored a neigh­bor­hood museum — in a for­mer pub­lic bathhouse?
…lis­tened to sto­ries of immi­grants as they came to start life in a new country?
I've recently had the chance to do all these things, and more.
All here in Canada.
My Cross-​​Canada Rail Adventure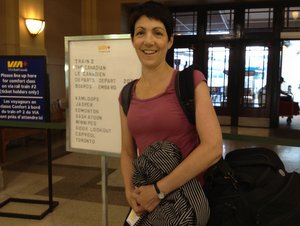 I'm just back from a great adven­ture — an epic cross-​​Canada train trip.
I spent a month trav­el­ing across Canada on Via Rail from Vancouver to Halifax with numer­ous stops along the way.
As a new Canadian myself — my fam­ily and I became Canadian cit­i­zens last year — I wanted to explore some of Canada's iconic, don't-miss places, from the Rocky Mountains to the Atlantic Coast.
But I also want to fol­low, and share, Canada's mul­ti­cul­tural story, learn­ing more about other new­com­ers, past and present.
The Cultural Access Pass
I was able to take this trip, in part, thanks to an excel­lent pro­gram that's avail­able free to new Canadian cit­i­zens: the Cultural Access Pass. Sponsored by the non-​​profit Institute for Canadian Citizenship, the Cultural Access Pass is good for free admis­sion to more than 1,000 muse­ums and cul­tural attrac­tions across the coun­try and to all of Canada's national parks and his­toric sites.
The pass also gives new cit­i­zens a 50 per­cent dis­count off a Via Rail trip, and I was excited to learn that you can apply the pass to an already dis­counted fare. That's right — when Via Rail announced a 50-​​percent-​​off sale, I was able to use my Cultural Access Pass for an extra discount.
If you're a new cit­i­zen, it's the cheap­est way you'll ever find to take the train across Canada! Thanks to the pass, too, my admis­sion to the national parks, his­toric sites, and most of the muse­ums I vis­ited — from Jasper to Winnipeg, Toronto to Montreal, Moncton to Halifax — didn't cost me anything.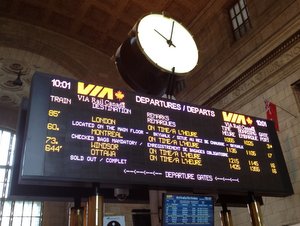 All Aboard!
Over the com­ing weeks, I'll be post­ing sto­ries about my new Canadian's cross-​​country rail adven­ture. I hope you'll join me on my travels.
And I'll be sure to tell you all about those nun's farts.
Photo cred­its:
Aboard the Via Rail train from Vancouver to Jasper © Carolyn B. Heller
Embarking on the train jour­ney © Alan Albert
Trains depart­ing from Toronto's Union Station © Carolyn B. Heller