घर » संस्कृति
बैग कनाडा - अमेरिका फ्रिटो ले चिप्स गाथा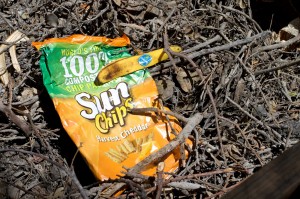 Are Cana­dians more concer­ned about the envi­ron­ment than their neigh­bors south of the border?
Here's the story:
नाश्ता भोजन विशाल Fri­to-Lay intro­du­ced a new com­pos­table chip bag in both Cana­da and the U.S. made from plant-based mate­rials that decom­pose quickly.
The pro­blem? The bags are real­ly noisy.
So accor­ding to this Van­cou­ver Sun लेख, «Chips bags too noi­sy for U.S., but a hit in Cana­da, » the com­pa­ny recei­ved so many com­plaints from Ame­ri­can cus­to­mers that they stop­ped using the new bags in the Uni­ted States.
In Cana­da, यद्यपि, Fri­to-Lay is pro­mo­ting the bags" eco-friend­li­ness, and appa­rent­ly their stra­te­gy is working.
"Just put them in a bowl," sug­gests Bon­nie Bowers Wil­son of Camp­bell­ford, लो. in a recent Toron­to Star लेख :
"I live in a noi­sy hou­se­hold. I have the tele­vi­sion on, a noi­sy Jack Rus­sell and three cats. I don't unders­tand the concern about the noise."

वह सोचता है कि Cana­dians are more willing to make changes for the envi­ron­ment than Ame­ri­cans.
The com­pa­ny has even crea­ted a You­Tube video for the Cana­dian mar­ket, as well as a Cana­dian Face­book page, tou­ting the bags" envi­ron­men­tal goodness.
In my expe­rience, Cana­dians do pride them­selves on their envi­ron­men­tal awa­re­ness, और many Cana­dian cities are fre­quent­ly lau­ded for their green poli­cies (see «à¤¦à¥à¤¨à¤¿à¤¯à¤¾ के शीर्ष पर्यावरण शहर कहाँ है? »).
क्या आप के बारे में? Do you think the com­pos­table chips bags are too noi­sy? Or is it worth it for the envi­ron­ment? Leave a com­ment and let us know.
And a note to our rea­ders from the U.K.: we're tal­king about चिप्स – a.k.a. crisps – not the fried pota­toes you eat with fish!
Sun Chips pho­to by cog­dog­blog (fli­ckr)