홈 » 주택, 채용 ì •ë³´, & 돈
Jobs in Canada – That's what you want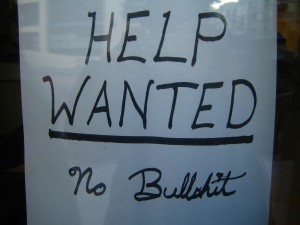 Thanks to those of you who par­ti­ci­pa­ted in our recent poll which asked what type of infor­ma­tion about immi­gra­ting to Cana­da was most dif­fi­cult to get.
And the ans­wer? 채용 ì •ë³´.
거의 40 percent of our rea­ders said that fin­ding infor­ma­tion about employ­ment in Cana­da was the major chal­lenge they faced.
다른 주요 관심사는 얘기 였어 immi­gra­tion pro­cess. 이상 20 percent of those respon­ding cited immi­gra­tion issues as their most signi­fi­cant concern.
We hope you'll explore the resources avai­lable on this site, whe­ther you're loo­king for infor­ma­tion about get­ting a Cana­dian work per­mit, fin­ding work in various parts of the coun­try, or sim­ply lear­ning more about job-hun­ting tools.
And we hope you'll share your stories.
Have you recent­ly found work as a new­co­mer to Canada?
Dis­co­ve­red a use­ful job hun­ting site ?
발견 가치 리소스 that hel­ped you through the immi­gra­tion process?
Please post a com­ment and ë‹¹ì‹ ì˜ 도움말을 ê³µìœ  with other rea­ders. Are you thin­king about a move to Cana­da? Plan­ning a move within the next few months? Alrea­dy here? Please let us know.
Help wan­ted pho­to by seki­mu­ra (플리커)