首页 » 日常生活, 房屋, 乔布斯, & é'±
ä¸ºä»€ä¹ˆåŠ æ‹¿å¤§äººé£žå¾€ç¾Žå›½æœºåœº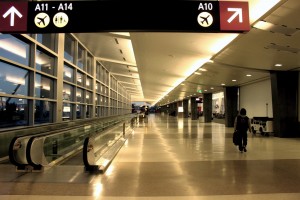 If you're living in Cana­da and plan­ning a trip out­side the coun­try, do you consi­der flying from an air­port in the Uni­ted States?
å¦'æžœæ˜¯è¿™æ ·, you're not alone.
最近 全球 & 邮件 æ–‡ç« , «An omi­nous flight pat­tern: Cana­dians opting for U.S. air­ports, » repor­ted that «åœ¨è¿‡åŽ»çš"十年, the num­ber of trips taken at U.S. air­ports by Cana­dians has more than dou­bled. »
What's dri­ving air­port-bound Cana­dians to drive over the bor­der? That's easy – 省钱.
随着 全球 & 邮件 article explai­ned, « one in six Cana­dians flying to a U.S. des­ti­na­tion are now tur­ning their backs on Canada's air­ports and taking advan­tage of chea­per Ame­ri­can fares. »
But what makes Cana­da's fares so high? Here's the 全球 & Mail's 分析:
只有 Air Cana­da å'Œ West­Jet offe­ring coast-to-coast ser­vice, Cana­da lacks the fierce com­pe­ti­tion among smal­ler air­lines that forces down fares in the Uni­ted States.

But direct and indi­rect govern­ment levies remain the big­gest rea­sons for Canada's sky-high fares. Otta­wa charges mil­lions of dol­lars in rent on the fede­ral­ly owned land that major air­ports ope­rate on; it also imposes secu­ri­ty charges, fuel excise taxes and sales taxes.

The various levies and charges have stea­di­ly risen in recent years and now account for up to 70 per cent of the total fare on domes­tic flights.
So what does that mean for Cana­dian travelers?
In Van­cou­ver, it means they're bra­ving the traf­fic and bor­der line-ups to drive to Seat­tle, 其中 dis­count air­lines like 喷气蓝 å'Œ Vir­gin Ame­ri­ca have a gro­wing num­ber of flights from Sea-Tac Inter­na­tio­nal Air­port.
这也意味着更多的公元前. tra­ve­lers are consi­de­ring flights from Bel­lin­gham, Washing­ton, 其中 Alle­giant Air whisks snow­birds south to Las Vegas, Phoe­nix, and seve­ral Cali­for­nia cities.. As the CBC repor­ted, « The num­ber of people flying out of Bel­lin­gham Inter­na­tio­nal Air­port has increa­sed from 68,000 在 2001 to about 400,000 在 2010 and more than half of those are Canadian. »
Toron­to-area tra­ve­lers are flying from Buf­fa­lo, and other sou­thern Onta­rio resi­dents book flights from 底特律.
South of Mon­treal, New York's Platts­burgh Inter­na­tio­nal Air­port even bills itself as « Mon­treal's U.S. Air­port, » luring Cana­dian tra­ve­lers with cheap flights on Spi­rit Air­ways.
It's not all gloom and doom for Cana­dian tra­ve­lers. Besides Air Cana­da and West­jet, some smal­ler car­riers are begin­ning to make inroads in the Cana­dian mar­ket, nota­bly Toron­to-based Por­ter Air­ways. Por­ter flies bet­ween eas­tern Cana­dian cities, inclu­ding Toron­to, Mon­treal, Hali­fax, 和圣. John's, and to a few Ame­ri­can destinations.
But in the same way that Cana­dian shop­pers look for other bar­gains south of the bor­der (看到æˆ'们最è¿'çš"æ–‡ç« , «Shop­ping in Cana­da, or Why US Expats Miss Tar­get »), it seems like dri­ving south to fly is a Cana­dian migra­tion that will be with us for some time.

Sea-Tac Inter­na­tio­nal Air­port pho­to by prayit­no (fli­ckr)