Accueil » Culture
It's Remembrance Day

, et les Canadiens portent des coquelicots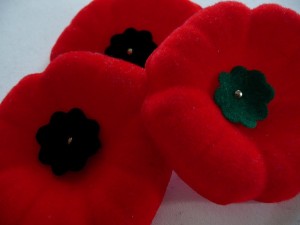 Novem­ber 11 est Remem­brance Day au Canada.
L'année dernière, we blog­ged about «Why is eve­ryone wea­ring pop­pies? » to explain Cana­da's Remem­brance Day traditions:
Une natio­nal public holi­day, Remem­brance Day is cele­bra­ted at the 11ème heure de la journée du 11 du 11e mois. It ori­gi­nal­ly com­me­mo­ra­ted the end of World War I on Novem­ber 11, 1918, at 11 am.
Begin­ning about two weeks before Remem­brance Day, you'll notice many Cana­dians spor­ting bright red pop­py broches sur leurs revers gauche.
Eve­ry year at the end of Octo­ber, l' Royal Cana­dian Legion, Canada's lar­gest vete­rans ser­vices orga­ni­za­tion, begins sel­ling pop­pies (by dona­tion) all across the coun­try. Long a sym­bol of remem­brance in other coun­tries, the pop­py became Canada's offi­cial Remem­brance Day icon in 1921.
L' annual pop­py cam­pai­gn is desi­gned to honor the 117,000 Cana­dian ser­vice people who have lost their lives in mili­ta­ry ope­ra­tions around the world. The money rai­sed pro­vides assis­tance to vete­rans and their families.
Cana­dian banks, bureaux, écoles, and many busi­nesses are clo­sed on Remem­brance Day.
Here's a list of events mar­king the holi­day cette semaine à  travers le pays.
Read more about Cana­da's pop­py tra­di­tion in this post from Why Go Cana­da, «Where Pop­pies Grow: Remem­brance Day in Cana­da. »
You might also be inter­es­ted in rea­ding about emer­ging alter­na­tives to the tra­di­tio­nal red pop­py ; l' Globe and Mail wrote about the topic in «Rethin­king the pop­py in a res­pect­ful way. »
Pop­py pho­to by That Cana­dian Grrl (fli­ckr)