首页 » 文化
熟æ'‰åŠ 拿大设计入门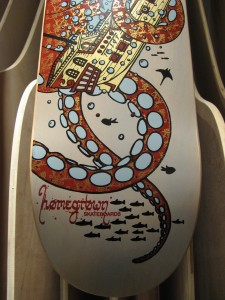 该 温哥华 2010 冬季奥运会 have been a bonanza for people who want to äº†è§£æ›´å¤šå…³äºŽåŠ æ‹¿å¤§ (阅读更多 这里, 这里, å'Œ 这里).
尽管奥运会已经关闭, some arts and cultural events — å'Œ more opportunities to get acquainted with Canada — are still continuing.
If you're in Vancouver this week and you're interested in learning about some cool products — all invented by Canadians, 前往 查尔斯·H. 斯科特画廊 在 艾米利卡尔艺术大学 & 设计 to see the free exhibit, "高性能: åŠ æ‹¿å¤§è®¾è®¡çš"æ¼"变与创新."
It features a variety of sports and recreation products, 从 skateboards 到 bicycles 到 hammocks, created by Canadian designers.
这个画廊是在 1399 约翰斯顿街 上 æ ¼å…°ç»´å°"å²›.
The exhibition runs through this Sunday, 三月 7. Hours are Monday through Friday noon to 5 pm and Saturday and Sunday 10 上午 5 下午. It's not a large exhibit, so you can wander through in about 30 分钟.
了解更多有关 "高性能" 关于 查尔斯·H. Scott Gallery website 或从 温哥华 2010 奥林匹克文化.
图片©卡罗琳乙. 海勒