الصفحة الرئيسية » الهجرة
مزيد من العمالة الوافدة الأمريكية التخلي عن جنسيتهم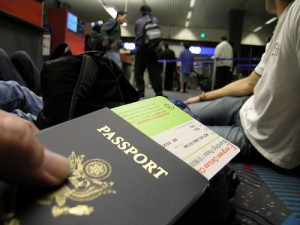 من نيويورك تايمز:
وسط تصاعد الإحباط أكثر من المشاكل الضريبية والمصرفية, صغيرة ولكن أعداد متزايدة من الأميركيين في الخارج يتم اتخاذ الخطوة من وزن التخلي عن جنسيتهم.
لماذا? "…الاحباط بسبب المسائل الضريبية والمصرفية, ليس الاعتبارات السياسية, appear to be the main drivers of the surge."
وشكا المغتربين الاميركيين منذ وقت طويل أن الولايات المتحدة هي الدولة الصناعية الوحيدة لفرض الضرائب على المواطنين على الدخل المكتسب في الخارج, حتى عندما يتم فرض ضرائب أنهم في بلد إقامتهم, على الرغم من السماح لهم لاستبعاد الاول بينهما $91,400 in foreign-earned income….
وبالإضافة إلى ذلك,
صرامة الأنظمة المصرفية الجديدة - التي تهدف على حد سواء في الحد من التهرب الضريبي و, بموجب قانون باتريوت, منع تدفق الاموال من الجماعات الإرهابية - عن غير قصد جعلت من الصعب على بعض العمالة الوافدة للحفاظ على حسابات مصرفية في الولايات المتحدة، وفي بعض الحالات في الخارج.

وأغلقت بعض البنوك ومقرها الولايات المتحدة حسابات العمالة الوافدة ' بسبب صعوبة في تصديق أن أصحاب لا تزال تحافظ على الولايات المتحدة. عناوين, as required by a Patriot Act provision….
مجلة تايم كتب مقالا مماثلا: لماذا أكثر الامريكية. المغتربين يتحولون في جوازات سفرهم
Ùˆ مرة piece quoted an American expat — who renounced his U.S. citizenship after becoming an Australian citizen — about how difficult it was to make this decision: "My family and friends think I am a traitor. But the financial burden was killing me."
Americans in Canada – what about you? هل تعتبر التخلي الامريكية الخاصة بك. المواطنة? فعلت فعلا? Why or why not?
الصورة من قبل مكفارلاند ريان (فليكر)