الصفحة الرئيسية » المال في كندا
المال في كندا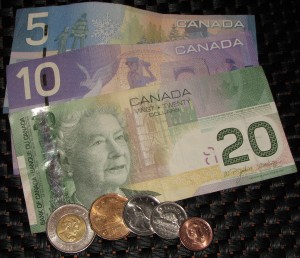 كما كنت خطة عملكم الى كندا, you need to think about money.
تبادل ما لا يقل عن بعض المال الى دولارات كندية قبل وصولك إلى كندا, بحيث يكون لديك النقدية على يد لسيارات الأجرة أو النقل العام, الغذاء, والنثريات.
المطارات والفنادق وعادة ما يكون أسعار الصرف غير المواتية. You'll get better rates from banks or from تبادل العملات عبر الانترنت خدمة.
البنوك في كندا
بمجرد وصولك في مجتمعك الكندية الجديدة, فتح حساب مصرفي. You'll need a passport and at least one of the following documents:
Canada's largest banks include:
بالإضافة إلى حسابات بالدولار الكندي, ومعظم البنوك الكندية كما تتيح لك فتح حساب بالدولار الامريكي, which is helpful if you're relocating from the United States or if you regularly receive US dollar payments.
بطاقات الائتمان والخصم في كندا
جميع البنوك الكبرى الكندي استخدام Interac الشبكة بطاقة الخصم. ماستر كارد, VISA, الذوابة, ويتم قبول بطاقات أجهزة الصراف الآلي في جميع زائد تقريبا (دعا يمسكون, أو ماكينات الصراف الآلي, في كندا).
إذا يجب عليك استخدام بطاقة غير الكندية لسحب النقود الكندية من ABM, you'll get a better exchange rate by using your debit card than your credit card. لا يزال أفضل, استخدام السمعة صرف العملات خدمة الانترنت.
الضرائب, الاستثمارات, والتخطيط المالي في كندا
إذا كنت تعمل أو تستثمر في كندا, سوف تحتاج على الأرجح لدفع ضريبة الدخل الكندية. استشارة محاسب مؤهل, ضريبة معد, أو المستشار المالي المطلع على القضايا الضريبية عبر الحدود.
الصورة © آلان البرت