Home » Money in Canada
Money in Canada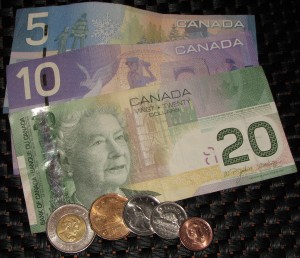 As you plan your move to Canada, you need to think about money.
Exchange at least some money into Canadian dollars before you arrive in Canada, so you have cash on hand for taxis or public transit, food, and incidentals.
Airports and hotels usually have unfavorable exchange rates. You'll get better rates from banks or from an online currency exchange service.
Banking in Canada
Once you arrive in your new Canadian community, open a bank account. You'll need a passport and at least one of the following documents:
Canada's largest banks include:
In addition to accounts in Canadian dollars, most Canadian banks will also let you open an account denominated in US dollars, which is helpful if you're relocating from the United States or if you regularly receive US dollar payments.
Credit and Debit Cards in Canada
All major Canadian banks use the Interac debit card network. Mastercard, VISA, Cirrus, and Plus cards are accepted at nearly all ATMs (called ABMs, or Automated Banking Machines, in Canada).
If you must use a non-Canadian card to withdraw Canadian cash from an ABM, you'll get a better exchange rate by using your debit card than your credit card. Better still, use a reputable online currency exchange service.
Taxes, Investments, and Financial Planning in Canada
If you are working or investing in Canada, you will likely need to pay Canadian income tax. Consult a qualified accountant, tax preparer, or financial advisor who is familiar with cross-border tax issues.
Photo © Alan Albert