घर » दैनिक जीवन
खुश परिवार दिवस, आइलैंडर दिवस, लुई Riel दिवस…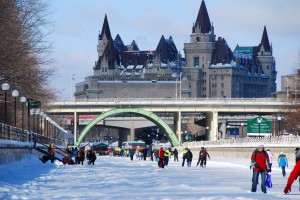 में अमेरिका, फरवरी में तीसरे सोमवार को एक राष्ट्रीय छुट्टी है. Washington's Birthday (often celebrated as Presidents' Day) जॉर्ज वॉशिंगटन सम्मान, पहले अमेरिकी राष्ट्रपति.
अगर तुम ओंटारियो में रहते हैं, अलबर्टा, Saskatchewan, प्रिंस एडवर्ड आइलैंड, या मनितोबा, then you're in luck!
इन कनाडा के प्रांतों में, the third Monday in February is a holiday, भी.
It's परिवार दिवस in several provinces, सहित ओंटारियो, अलबर्टा, और Saskatchewan.
प्रिंस एडवर्ड आइलैंड में, the February holiday is called आइलैंडर दिवस.
और Manitoba में, you get a day off for लुई Riel दिवस, honoring the Métis (French-aboriginal) leader credited with being the "father" of the province.
इन प्रांतों में, बैंकों, स्कूलों, and government offices are closed. कुछ दुकानें खुली हैं, as are federal government offices.
Do you have plans for the February holiday? ओंटारियो में, many cities and towns organize all sorts of winter activities. If there's a particularly fun event that's happening in your community, please leave a comment and let us know.
This February holiday is नहीं a national holiday in Canada, इसलिए यदि आप ब्रिटिश कोलंबिया में रहते हैं, क्यूबेक, नोवा स्कोटिया, न्यूफ़ाउंडलैंड और लेब्राडार, नई ब्राउनश्विक, or in any of the Canadian territories (युकोन, उत्तर पश्चिमी प्रदेशों, या नुनावुत), बहुत बुरा. आप सोमवार को काम है. क्षमा करें!
Rideau नहर (ओटावा) द्वारा फोटो matt.boman (फ़्लिकर)