Home » Daily Life
Happy Family Day, Islander Day, Louis Riel Day…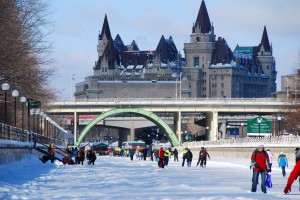 In the U.S., the third Monday in February is a national holiday. Washington's Birthday (often celebrated as Presidents' Day) honors George Washington, the first American president.
If you live in Ontario, Alberta, Saskatchewan, Prince Edward Island, or Manitoba, then you're in luck!
In these Canadian provinces, the third Monday in February is a holiday, too.
It's Family Day in several provinces, including Ontario, Alberta, and Saskatchewan.
In Prince Edward Island, the February holiday is called Islander Day.
And in Manitoba, you get a day off for Louis Riel Day, honoring the Métis (French-aboriginal) leader credited with being the "father" of the province.
In these provinces, banks, schools, and government offices are closed. Some shops are open, as are federal government offices.
Do you have plans for the February holiday? In Ontario, many cities and towns organize all sorts of winter activities. If there's a particularly fun event that's happening in your community, please leave a comment and let us know.
This February holiday is not a national holiday in Canada, so if you live in British Columbia, Quebec, Nova Scotia, Newfoundland and Labrador, New Brunswick, or in any of the Canadian territories (the Yukon, the Northwest Territories, or Nunavut), too bad. You have to work on Monday. Sorry!
Rideau Canal (Ottawa) photo by matt.boman (flickr)