الصفحة الرئيسية » الحياة اليومية
Get to know your city on a « Jane's Walk » May 1–2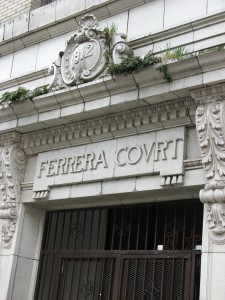 Put on your wal­king shoes!
If you're new to Cana­da (or even if you've lived here for a while), here's a chance to get acquain­ted with your home city and get some fresh air at the same time
On Satur­day, قد 1 and Sun­day, قد 2, cities across Cana­da are hos­ting «Jane's Walks, » a series of free neigh­bo­rhood wal­king tours.
Cele­bra­ting the lega­cy of جين جاكوبس (1916–2006), a noted urba­nist, acti­vist, ومؤلف كتاب, Jane's Walks ins­pire people to get to know their city – and each other – by get­ting out and walking.
أكثر من 60 cities world­wide, inclu­ding 30 in Cana­da, are hol­ding Jane's Walks in 2010.
ولدت جاكوبس في الامريكية. but immi­gra­ted to Cana­da in the 1960s. لها 1961 كتاب, The Death and Life of Great Ame­ri­can Cities, intro­du­ced inno­va­tive, أفكار جديدة حول التنمية الحضرية.
Jacobs cham­pio­ned cities that were higher den­si­ty and mixed-use but still wal­kable and human scale. Because of her belief that local resi­dents should have input on how their neigh­bo­rhoods deve­lop, Jacobs encou­ra­ged people to get bet­ter acquain­ted with their local com­mu­ni­ties.
Among the Cana­dian cities hos­ting Jane's Walks this year are:
العام الماضي, I took an inter­es­ting Jane's Walk though the Van­cou­ver neigh­bo­rhoods of Stra­th­co­na Ùˆ Gas­town that high­ligh­ted those com­mu­ni­ties" Jewish roots. من بين أمور أخرى, I lear­ned that vau­de­ville per­for­mer Jack Ben­ny التقى بزوجته المستقبلية في Fer­ra­ra Court buil­ding on East Has­tings Street. (Ùˆ المتحف اليهودي والمحفوظات من B.C. hosts simi­lar wal­king tours من يونيو حتى أغسطس.)
For a com­plete list of 2010 Jane's Walks across Cana­da, check the Jane's Walk web­site.
Pho­to ©Carolyn B. شخص مزعج