首页 » é'±åœ¨åŠ 拿大
é'±åœ¨åŠ 拿大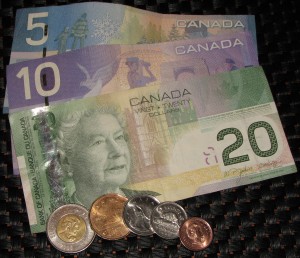 As you plan your move to Cana­da, you need to think about money.
Exchange at least some money into Cana­dian dol­lars before you arrive in Cana­da, so you have cash on hand for taxis or public tran­sit, 食品, 和杂费.
Air­ports and hotels usual­ly have unfa­vo­rable exchange rates. You'll get bet­ter rates from banks or from an online cur­ren­cy exchange ser­vice.
é"¶è¡Œåœ¨åŠ 拿大
Once you arrive in your new Cana­dian com­mu­ni­ty, 开立银行帐户. You'll need a pas­sport and at least one of the fol­lo­wing documents:
Cana­da's lar­gest banks include:
In addi­tion to accounts in Cana­dian dol­lars, most Cana­dian banks will also let you open an account deno­mi­na­ted in US dol­lars, which is help­ful if you're relo­ca­ting from the Uni­ted States or if you regu­lar­ly receive US dol­lar payments.
åœ¨åŠ æ‹¿å¤§çš"ä¿¡ç"¨å¡å'Œå€Ÿè®°å¡
All major Cana­dian banks use the Inter­ac debit card net­work. Mas­ter­card, VISA, Cir­rus, and Plus cards are accep­ted at near­ly all ATMs (cal­led ABMs, or Auto­ma­ted Ban­king Machines, åœ¨åŠ æ‹¿å¤§).
If you must use a non-Cana­dian card to with­draw Cana­dian cash from an ABM, you'll get a bet­ter exchange rate by using your debit card than your cre­dit card. Bet­ter still, use a repu­table online cur­ren­cy exchange ser­vice.
税, 投资, åœ¨åŠ æ‹¿å¤§å'Œè´¢åŠ¡è§"åˆ'
If you are wor­king or inves­ting in Cana­da, you will like­ly need to pay Cana­dian income tax. Consult a qua­li­fied accoun­tant, tax pre­pa­rer, or finan­cial advi­sor who is fami­liar with cross-bor­der tax issues.
Pho­to © Alan Albert