Home » Money in Canada
Money in Canada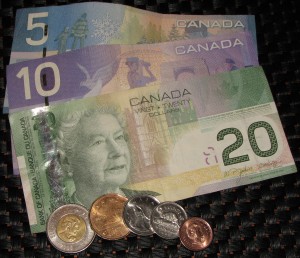 As you plan your move to Canada, you need to think about money.
Exchange at least some mon­ey into Canadian dol­lars before you arrive in Canada, so you have cash on hand for taxis or pub­lic tran­sit, food, and incidentals.
Airports and hotels usu­al­ly have unfa­vor­able exchange rates. You'll get bet­ter rates from banks or from an online cur­ren­cy exchange ser­vice.
Banking in Canada
Once you arrive in your new Canadian com­mu­ni­ty, open a bank account. You'll need a pass­port and at least one of the fol­low­ing documents:
Canada's largest banks include:
In addi­tion to accounts in Canadian dol­lars, most Canadian banks will also let you open an account denom­i­nat­ed in US dol­lars, which is help­ful if you're relo­cat­ing from the United States or if you reg­u­lar­ly receive US dol­lar payments.
Credit and Debit Cards in Canada
All major Canadian banks use the Interac deb­it card net­work. Mastercard, VISA, Cirrus, and Plus cards are accept­ed at near­ly all ATMs (called ABMs, or Automated Banking Machines, in Canada).
If you must use a non-Canadian card to with­draw Canadian cash from an ABM, you'll get a bet­ter exchange rate by using your deb­it card than your cred­it card. Better still, use a rep­utable online cur­ren­cy exchange ser­vice.
Taxes, Investments, and Financial Planning in Canada
If you are work­ing or invest­ing in Canada, you will like­ly need to pay Canadian income tax. Consult a qual­i­fied accoun­tant, tax pre­par­er, or finan­cial advi­sor who is famil­iar with cross-bor­der tax issues.
Photo © Alan Albert