Home » Culture
Quebec's National Holiday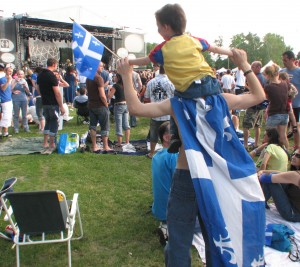 Happy Saint-​​Jean-​​Baptiste Day!
Although Quebec cel­e­brates all of Canada's national hol­i­days, the province also has its own "Fête Nationale". This "national hol­i­day," also known as Saint-​​Jean-​​Baptiste Day, is held on June 24 and is part sum­mer sol­stice cel­e­bra­tion and part Quebec pride day.
Saint-​​Jean-​​Baptiste (St. John the Baptist) is the patron saint of French Canadians, and the day in his honor takes on a sig­nif­i­cant fla­vor of Quebec nation­al­ism. Residents wave Quebec flags and hang ban­ners from their bal­conies, while free con­certs and events high­light tra­di­tional Quebecois music and cul­ture.
Montreal cel­e­brates with a big parade and huge street par­ties across the city. Many smaller com­mu­ni­ties make merry with gusto as well.
Quebec essen­tially shuts down for La Fête — banks, offices, and other ser­vices are all closed – so you might as well join in the fes­tiv­i­ties, even if you don't speak much French. It's a fine excuse for a party!
And even if you're not in Quebec, you may find cel­e­bra­tions in other regions. Tonight in Vancouver, Richard's on Richards night­club hosts "Fête de la Saint Jean Baptiste" at 9pm. You can even party in the Yukon at cel­e­bra­tions in Whitehorse and Dawson City.
Bonne Fête!
Photo ©Alan Albert