Home » Culture
The Prince of Wales is in town. Do Canadians care?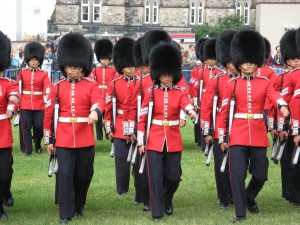 Charles, the Prince of Wales, and his wife, Camilla, the Duchess of Cornwall, are tour­ing Canada this week.
From Newfoundland and Labrador, they trav­eled to Ontario; then it's on to British Columbia, Quebec, and finally to Ottawa. They'll return to England on November 12.
Because Canada remains a con­sti­tu­tional monar­chy, Queen Elizabeth II is tech­ni­cally the Queen of Canada, the country's offi­cial Head of State. As heir to the British throne, the Prince of Wales is in line to become Canada's offi­cial ruler.
If you're a new­comer to Canada, par­tic­u­larly if you've come from the very non-​​royalist United States, you may be sur­prised by the degree to which the monar­chy is alive and well north of the bor­der. While the Queen's role is largely sym­bolic, her por­trait graces Canadian money and stamps, and the Canadian media cov­ers a royal visit in minute detail.
Yet Canadians have mixed feel­ings about their royal ties.
Although Liberal Leader Michael Ignatieff once famously dis­missed the rel­e­vance of the monar­chy with "Enough of this non­sense…," a Sun Media poll taken in the week before this most recent royal visit found that "sup­port for dump­ing the monar­chy stands at 45% nation­ally, while sup­port for keep­ing the Queen as our head of state is slightly lower at 44%."
Regardless of your views on the monar­chy, you can get the com­plete itin­er­ary for the royal visit here.
Photo ©Carolyn B. Heller