Home » Culture
Living in Canada? Take your shoes off.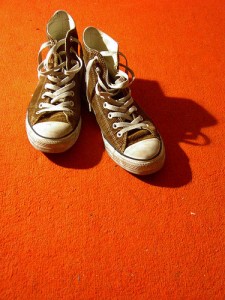 When we first moved to Canada, one of the things that sur­prised me was that very few peo­ple wear their shoes in the house. Go into some­one's home, and you leave your shoes by the door.
I've tried to find the ori­gin of this cus­tom, but no one seems to know for sure how it start­ed. One fac­tor is undoubt­ed­ly the weath­er — when it's wet, mud­dy, or snowy out­side, you don't want to be track­ing all that muck into your house.
Some peo­ple sug­gest that Canada's large Asian pop­u­la­tion may also have influ­enced this cus­tom. In many Asian coun­tries, it's con­sid­ered good man­ners to take off your shoes before enter­ing some­one's home.
One unex­pect­ed side effect of the "shoes off" pol­i­cy is that you need to find a place to put your shoes. If you don't want to be trip­ping over a big pile of shoes by your front door, con­sid­er get­ting a shoe rack, like one of these from IKEA or Canadian Tire.
And if you want to read more about the Canadian shoes-off cus­tom, check out these sites:
Photo by Daveybot (flickr)