Home » Immigration, Travel
At 2010 Olympics, learn about life in Canada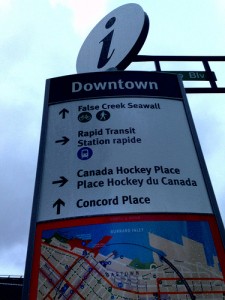 If you'll be vis­it­ing Vancouver dur­ing the 2010 Winter Games, you can use this oppor­tu­nity to learn more about liv­ing and work­ing in many dif­fer­ent parts of Canada.
How?
Visit the "houses" that many Canadian regions have set up to show­case their com­mu­ni­ties. All are offer­ing a vari­ety of spe­cial events dur­ing the Winter Olympics, from February 12 – 28.
Ontario House, at 50 Pacific Boulevard, will draw poten­tial res­i­dents, investors, and vis­i­tors with sev­eral high-​​tech attrac­tions, includ­ing a 4-​​D vir­tual tour of the province; appear­ances by Ontario celebrity chefs Jamie Kennedy and Anna Olson, as well cook­ing demos by chefs from the Ottawa branch of Le Cordon Bleu; and musi­cal per­for­mances by Ontario artists. Get a cal­en­dar of Ontario house events here or fol­low Tourism Ontario on twit­ter.
Also at 50 Pacific Boulevard is La Maison du Québec, which will show­case Québécois cul­ture, food and drink, and tourism oppor­tu­ni­ties, includ­ing nightly per­for­mances by Montreal-​​based cir­cus troupe Les 7 Doigts de la Main. French-​​speakers can get more infor­ma­tion and a sched­ule here.
At the cor­ner of Robson and Beatty Streets, Alberta House is host­ing business-​​to-​​business events about the province's eco­nomic and tourism oppor­tu­ni­ties. Every morn­ing from 10-​​11am, Alberta Plaza (in front of Alberta House) will fea­ture infor­ma­tion about liv­ing, work­ing, vis­it­ing, and invest­ing in Alberta, while in the evenings, Alberta per­form­ers take to the stage. Follow Alberta House on twit­ter for more details.
Other provin­cial "houses" include:
CentrePlace Manitoba, at the LiveCity Downtown site
Saskatchewan Pavilion, on the north shore of False Creek
Atlantic Canada House, located on Granville Island, fea­tur­ing Nova Scotia, New Brunswick, Prince Edward Island, and Newfoundland & Labrador
Canada's Northern House, at 602 W. Hastings St., pro­mot­ing the Yukon, the Northwest Territories, and Nunavut. Check out their news on twit­ter, too.
And of course, there's also the British Columbia Pavilion, and the 2010 B.C. Business Visitors Program, which we blogged about here. Follow "BC — You Gotta Be Here" on twit­ter.
Who said that the Olympics are all about sports?
Photo by roland (flickr)