Home » Culture
Are You Smarter than a 10th Grader (about Canada)? Take this Quiz!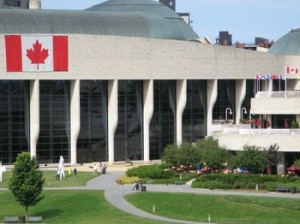 Do you know enough about Canadian his­to­ry and gov­ern­ment to pass the Canadian cit­i­zen­ship test?
Or are you (at least) smarter than the aver­age Canadian 10th grader?
A group of Grade 10 stu­dents recent­ly chal­lenged two Canadian jour­nal­ists to a quiz show-style com­pe­ti­tion at the Canadian Museum of Civilization, where both teams answered ques­tions from Discover Canada: The Rights and Responsibilities of Citizenship, the guide that new­com­ers to Canada use to study for their cit­i­zen­ship test.
Do you know:
Who is the only Canadian Prime Minister to be award­ed the Nobel Prize?
When was the Canadian flag first raised?
Who were Les Automatistes of Québec?
These ques­tions are hard, eh? Take the "Are You Smarter Than a Canadian 10th Grader Quiz" here (and find out the answers).
Can you guess who won the com­pe­ti­tion, which pit­ted stu­dents from Ottawa's Immaculata High School against CBC Inside Politics jour­nal­ists Kady O'Malley and Laura Payton?
Get the sto­ry, and see who's smartest, from Citizenship and Immigration Canada.
Canadian Museum of Civilization pho­to © Carolyn B. Heller